Immigration & Visas Services
LEGAL SERVICES: US Visa Consultants
Visa Processing Knowledge Center
100% Success Rate for Visa Services
None of our clients has ever been denied a visa. We have processed over 4,000 fiancee visas and marriage visas from Thailand to the USA, more than all others, combined. No other firm can match our track record of success, our knowledge or experience.
We achieve a 100% success rate by pre-qualifying our clients using our unequaled knowledge and experience gained from processing over 4,000 US fiancee and marriage visas from Thailand. We do not process visas for people who don't qualify or who we can't qualify.
We are occasionally asked how we are able to achieve and maintain a 100% success rate having processed such a large number of visas. Certainly a 100% success rate is not difficult if a firm has only processed a few visas. Other firms have written that it is impossible to have a 100% success rate, clearly it is for them. The simple explanation is, as stated above, we don't accept clients who don't qualify or who we can't qualify. By this we mean pre-qualify, before we agree to start a visa petition. It is also important to have in depth knowledge and experience and exercise honesty. Some firms will assure a client they can help them get a visa knowing they don't qualify, this is blatantly dishonest, but does happen often in Bangkok. If a firm can not predetermine the success or failure of a potential visa petition in advance in our opinion they have no business asking people to pay them money. They simply lack the expertise and ability that is implicit when demanding money for a service.
We know how important it is to couples to be together, we don't deceive people or play games with their lives.
Components required to achieve a 100% success rate are:
Pre-qualifying clients, in depth knowledge, experience, specialization, honesty, and a genuine concern for and commitment to our clients are the ingredients that when combined achieve and maintain a 100% success rate. It's not rocket science, or a complex concept, just a basic ethical formula under which all businesses should offer services and take care of their customers.
Start Today – US K1 Fiance Visa & CR1 Marriage Visa
To hire us and get started,e-mail with your Thai fiance or Thai wife's mobile phone number, one of the paralegals (Thai ladies) in our office will phone her to provide information about the visa application process, and explain to her in detail the numerous things we will be handling on her behalf.
Your fiance or wife will be invited to make an appointment with our office to begin the visa application process.
Should you have questions you can call our office toll free, you may e-mail your question or request a call. E-mails are answered promptly, never exceeding 24 hours.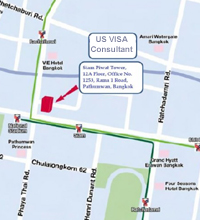 Our Office Address:
US Visa Consultants
989 Siam Piwat Tower,
12A Floor, Unit A2,
Office number 1253,
Rama 1 Road, Pathumwan,
Bangkok 10330, Thailand.

Tel: +66 (0) 2 648 5041,
Tel:+66 (0) 2 648 5042
Fax: +66 (0) 2 648 5001

Email: usvisaconsult@gmail.com