Immigration & Visas Services
LEGAL SERVICES: US Visa Consultants
Visa Processing Knowledge Center
Firm Overview
Thailand's First American owned U.S. Immigration Consulting Firm.
Our firm has processed more fiance and marriage visas, from Thailand to the USA, than all other Thailand based and USA based immigration attorneys and visa service companies, combined. Our unmatched track record, which includes our 100% success rate, assures the visa will be issued, and in the shortest period time.
Our firm enjoys the exclusive distinction of being the only firm practicing solely in the area of fiance and marriage visas from Thailand to the USA.
The only other services we provide support the needs of our visa clients: Which are obtaining your fiancee's or wife's Green Card once she is in the USA, prenuptial agreements, child custody, Thailand divorce, legal marriage in Thailand, certificate of birth abroad, U.S. passport & social security number for your child born in Thailand.
We have a 100% success rate. None of our clients has ever been denied a visa.
Our Philosophy
We recognize that being with the girl you love is the most important thing in your life. We take our responsibility for you very seriously and work on your behalf in a serious and compassionate manner.
Experience:
Our firm has extensive experience representing thousands of clients with visa petitions before the United States Citizenship & Immigration Services, and American Embassy in Bangkok, Thailand. Our experience with family based immigration, counselor processing, and naturalization with Thailand based petitions is unrivaled.
We have successfully represented clients for removal, deportation, fraud waiver, medical waiver, three and ten year bars, criminal waiver, hardship waiver, etc. Implementation of our advance strategies, processes problematic applications as routine, avoiding incident or difficulty.
While most of the visa applications we process are without complication, and as stated above, our strategies are designed to avoid complication, clients often seek us out due to our track record of achieving positive results with difficult applications. While your application is most likely without complication you may look upon the contents of this page for informational purposes only.
Below is an example of one of our clients for whom we needed to obtain 3 different waivers in order for the visa to be issued.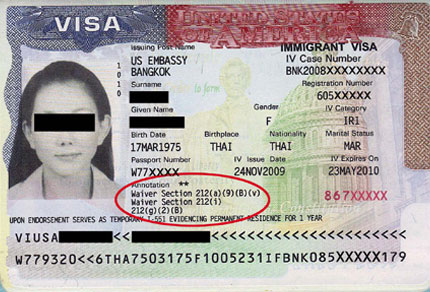 The client who's visa appears above was under removal proceedings, and was sited with several serious violations. A Hardship waiver was also required which many believe to be one of the most difficult waivers to obtain:
INA § 212(a)(9)(B)(v): An immigrant subject to the three or ten year bar, or otherwise not permitted to enter the USA for a period of either three years or ten years.
INA § 212 (g) (2) (b): The counselor officer has determined that the application is either fraudulent, misrepresents the facts of fails to convince or satisfy the counselor officer.
INA § Section 212( I ): Immigrants who are inadmissible based on fraud or misrepresentation. A misrepresentation is made when any alien who, by fraud or willfully misrepresenting a material fact, seeks to procure (or has sought to procure or has procured) a visa, other documentation, or admission into the United States or other benefit provided under this Act is inadmissible.
Start Today – US K1 Fiance Visa & CR1 Marriage Visa
To hire us and get started,e-mail with your Thai fiance or Thai wife's mobile phone number, one of the paralegals (Thai ladies) in our office will phone her to provide information about the visa application process, and explain to her in detail the numerous things we will be handling on her behalf.
Your fiance or wife will be invited to make an appointment with our office to begin the visa application process.
Should you have questions you can call our office toll free, you may e-mail your question or request a call. E-mails are answered promptly, never exceeding 24 hours.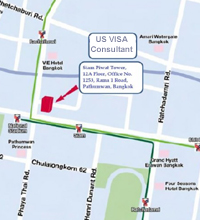 Our Office Address:
US Visa Consultants
989 Siam Piwat Tower,
12A Floor, Unit A2,
Office number 1253,
Rama 1 Road, Pathumwan,
Bangkok 10330, Thailand.

Tel: +66 (0) 2 648 5041,
Tel:+66 (0) 2 648 5042
Fax: +66 (0) 2 648 5001

Email: usvisaconsult@gmail.com