Immigration & Visas Services
LEGAL SERVICES: US Visa Consultants
Visa Processing Knowledge Center
US Visa Services
Our firm enjoys the exclusive distinction of being the only firm practicing solely in the area of family based immigrant visas from Thailand to the USA including k1 fiancee visa, k2 visa, k3 marriage visa, k4 visa, IR-1 marriage visa and CR-1 marriage visa.
The only other services we provide support our clients needs: Which are obtaining your fiancee's or wife's Green Card once she is in the US and prenuptial agreements.
We feel that it is very important to specialize and develop an expertise in one specific area that benefits our clients with our expert ability.
K-2 Visa for the unmarried minor child for a K-1 fiancee visa parent
K-4 Visa for the unmarried minor child for a K-3 marriage visa parent
CR-1 and IR-1 Marriage visas with Green Card and Social Security Card
Adjustment of Status to legal permanent resident, or Green Card
New Born Baby in Thailand Citizenship
Premium Services for all Visa Processing
Below please find a brief outline of the services we provide when processing visa applications.
Contact with you via e-mail to obtain your biographic information for your part of the initial USCIS application via a simple questionnaire.
Meeting with your fiancee, providing information about the visa application process and answering her questions to make her feel comfortable with the visa application process and our firm.
Collecting information and documents from your fiancee to complete the initial USCIS application
Preparation of the initial USCIS visa application with the combined information obtained from you and your fiancee. The application reviewed and ready for your fiance's signatures at the time of our initial meeting. Generally a 2-3 hour process.
The completed application Federal Expressed to you in the USA for your signatures. Alternatively, you could appear at our office with your fiancee if you were in Thailand at the time you wished to start the visa application.
Submission of the visa petition to the USCIS Service Center having jurisdiction.
Monitoring of the petition during USCIS initial review and decision. Communicating with USCIS during the review and decision process.
Monitoring the visa petition with the Department of State's National Visa Center, and communication with them regarding your case number and timeline of processing and transfer to US Embassy in Bangkok.
Ongoing communication with your fiance with regard to the status of the visa application.
Assisting your fiancee to complete the advance retrieval of her Embassy required documents.
Communicating with you regarding the advance retrieval of your Embassy required documents.
Preparation and submission of the Notification of Applicant Readiness package for the Embassy.
Obtaining your fiance's criminal background check and certificate of good conduct from the Thai National Police Headquarters. Our staff completes this process without requiring your fiancee's participation.
Guide and accompany your fiancee through the medical examination procedure. We assure that your fiance is properly cared for, that the process is correctly completed and we monitor her to assure that she is feeling fine through the process. We remain with her in the hospital after her vaccines to assure no negative reactions. The president our firm meets with the primary physician who performed the exam if there are any complications.
Preparation and submission of a comprehensive application package for the Embassy. We present an application to the Embassy that reflects favorably upon your fiance with the goal of making the interview painless and brief. Having an intimate knowledge of the Embassy's preferred visa application package structure. We create application packages that are easy for the Foreigner Service Workers and Counselor Officers to process.
Preparation of your fiancee for her interview. This is a multi-part process designed to thoroughly prepare your fiance and make her as comfortable with the process as possible. This requires two meetings. The first meeting is scheduled at the same time as the medical exam to reduce your fiancee's traveling time. The second and final meeting is with the firm president.
Communication with the Embassy
Unlimited access to the firm president and other members of our firm who are representing you and your fiancee during the visa application process. You may utilize: e-mail, telephone and meetings in our office. You and your fiance can schedule meetings and phone consultations with our staff and firm president as often as you require.
Start Today – US K1 Fiance Visa & CR1 Marriage Visa
To hire us and get started,e-mail with your Thai fiance or Thai wife's mobile phone number, one of the paralegals (Thai ladies) in our office will phone her to provide information about the visa application process, and explain to her in detail the numerous things we will be handling on her behalf.
Your fiance or wife will be invited to make an appointment with our office to begin the visa application process.
Should you have questions you can call our office toll free, you may e-mail your question or request a call. E-mails are answered promptly, never exceeding 24 hours.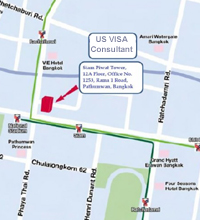 Our Office Address:
US Visa Consultants
989 Siam Piwat Tower,
12A Floor, Unit A2,
Office number 1253,
Rama 1 Road, Pathumwan,
Bangkok 10330, Thailand.

Tel: +66 (0) 2 648 5041,
Tel:+66 (0) 2 648 5042
Fax: +66 (0) 2 648 5001

Email: usvisaconsult@gmail.com