Immigration & Visas Services
LEGAL SERVICES: US Visa Consultants
Visa Processing Knowledge Center
Trust & Confidence – Evidence of our Track Record
Many visa company/visa lawyer websites make claims as to their qualifications. In most cases the claims can not be verified, and none offer evidence to substantiate their claims.
A legitimate firm, making truthful statements, will have the ability to back up their statements with evidences.
Evidences of a successful track record can take different forms, and when multiple forms are provided one can have greater confidence of the firm's abilities.
The documentary evidences available here, are not a complete record of our track record, quite frankly we don't have the bandwidth to support every document, but we have provided a substantial amount of documentary evidences to substantiate the legitimacy of our successful track record.
Department of Homeland Security Approvals
Certificate of Birth Abroad & Child Passport
Police Reports – Criminal Background Checks
Start Today – US K1 Fiance Visa & CR1 Marriage Visa
To hire us and get started,e-mail with your Thai fiance or Thai wife's mobile phone number, one of the paralegals (Thai ladies) in our office will phone her to provide information about the visa application process, and explain to her in detail the numerous things we will be handling on her behalf.
Your fiance or wife will be invited to make an appointment with our office to begin the visa application process.
Should you have questions you can call our office toll free, you may e-mail your question or request a call. E-mails are answered promptly, never exceeding 24 hours.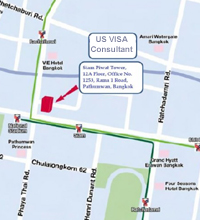 Our Office Address:
US Visa Consultants
989 Siam Piwat Tower,
12A Floor, Unit A2,
Office number 1253,
Rama 1 Road, Pathumwan,
Bangkok 10330, Thailand.

Tel: +66 (0) 2 648 5041,
Tel:+66 (0) 2 648 5042
Fax: +66 (0) 2 648 5001

Email: usvisaconsult@gmail.com