Immigration & Visas Services
LEGAL SERVICES: US Visa Consultants
Visa Processing Knowledge Center
Link Exchange Resources Page Information
Please read below before exchanging the links:
Link Exchange indicates that the person initiating the link exchange must place a link first before asking for a link exchange.
There must be a clear route for link exchange page from your home page on your web site. If we can't get to your link page then the link exchange will be rejected.
Your site should have its own domain name; we avoide link exchanges with free hosting sites such as Freeserve and Yahoo will be rejected.
Make sure you are not hiding your links in Java script or frames. Search engines can not follow and neither will our robot so your link will be rejected.
We don't encourage link farms and expect the same from our link partners.
Make sure the total number of outbound links on your link page where you put our link should not exceed 30.
Once you added our link at your link page, only those sites will be added to our link exchange program.
We monitor our Links Exchange partners regularly and if our link is not found on your site the link exchange will be deleted.
If you have any query, feel free to contact us for any link exchange related query.
Before you contact us for link exchange, please add our link on your site and send us the reciprocal link page url along with your link information and we will add your link in 24 hours.
Send us E-mail at : info@mythaifiancee.com
Our Link Exchange information below:
Title:Fiancee Visa
Url: http://www.mythaifiancee.com/
Description: Fiancee visa services to the USA from Thailand for thai fiance by mythaifiancee Thailand lawyers & attorney, who specializing in fiancee visa or k1 fiancee visa services based in Bangkok, Thailand and United States.
OR
Copy and paste our banner link, check our Link our banner page to link.
Start Today – US K1 Fiance Visa & CR1 Marriage Visa
To hire us and get started,e-mail with your Thai fiance or Thai wife's mobile phone number, one of the paralegals (Thai ladies) in our office will phone her to provide information about the visa application process, and explain to her in detail the numerous things we will be handling on her behalf.
Your fiance or wife will be invited to make an appointment with our office to begin the visa application process.
Should you have questions you can call our office toll free, you may e-mail your question or request a call. E-mails are answered promptly, never exceeding 24 hours.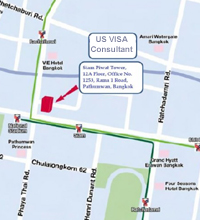 Our Office Address:
US Visa Consultants
989 Siam Piwat Tower,
12A Floor, Unit A2,
Office number 1253,
Rama 1 Road, Pathumwan,
Bangkok 10330, Thailand.

Tel: +66 (0) 2 648 5041,
Tel:+66 (0) 2 648 5042
Fax: +66 (0) 2 648 5001

Email: usvisaconsult@gmail.com