Immigration & Visas Services
LEGAL SERVICES: US Visa Consultants
Visa Processing Knowledge Center
Prenuptial Agreements for K1 Fiancee Visa
---
Prenuptial Agreements for K-1 fiancee visa and talking with your fiancee about the prenuptial agreement
---
Celebrities and wealthy people have had experience with prenuptial agreements for quite some time. One wealthy person who is also a celebrity, Donald Trump, refers to prenuptial agreements as "certainty agreements".
He states that a prenuptial agreement gives you certainty, as it defines who gets what if you split. It prevents the endless litigation and the intense fighting that can often drag on for long periods of time. When we have a certainty agreement there will be no fighting, and because everything has been decided in advance we have a much better chance of retaining a friendship with our former spouse when we are no longer together. Having a cordial relationship with a former spouse is especially beneficial when you have children.
Talking about a prenuptial agreement with your fiancee needs to happen before she receives her fiancee visa
Prenuptial agreements can be difficult to talk about with the one you love, and there is nothing romantic about it. Many men are afraid to ask their fiancee to sign a prenuptial agreement. They think their fiancee will refuse to sign and call off the wedding. While this would be a terrible thing, there are worst things, like loosing all your money and your home. In my experience, our female fiancee visa clients who have a problem with the prenuptial agreement are ladies who are not interested in marrying for love. The majority of our fiancee visa clients state that they will sign anything their future husband wants them to sign because all they really want is to be with him. We should run away from any lady who objects to signing a prenuptial agreement, and then open our eyes to her real motives.
You should explain to your fiancee that a prenuptial agreement is not wanted because you don't love or trust her. You want a prenuptial agreement because of your love and your love extends even to the time when you may not be together. If you don't stay together you want to be able to maintain a good relationship. If you do divorce the prenuptial agreement will be your settlement agreement. Everything has been decided in the prenuptial agreement so there will not be any fighting at the time of a divorce.
Divorce is often an intense adversarial process with no winners other than the lawyers. Lawyer fees will reduce or eliminate monies either party would be awarded. A wise person would take steps to avoid the vicious fighting that can take place during a divorce. A prudent person would take steps to avoid loosing everything they owned.
The reality is prenuptial agreements are designed to protect a less wealthy person rather than to hurt them. Inform your fiancee that the prenuptial agreement will ensure that she will be cared for in the event of a dissolution of marriage.
Parents and children can often insist that you have a prenuptial agreement to protect their interests, family owned investments, or a family business. Inform your fiancee that your family will not approve of your marriage unless there is a prenuptial agreement. This way it doesn't look like the prenuptial agreement is entirely your idea.
Do not make your talk an emotional topic of discussion. Just be matter of fact about it.
Have the conversation when you are alone together, in a quiet place where you can be assured there will not be any interruptions. There isn't a good way to start the conversation so, just jump in.
Example: I have been thinking about the things we need to take care of before the wedding and wanted to talk with you about a prenuptial agreement. I want to have one because of my family's business. I need to make sure they will always be okay. It's like having insurance to protected us and my family in the event something we can't imagine now, were to happen in the future.
If you take the time to think about what you will say in advance and decide to make it a matter of fact type of discussion, while providing a valid reason for needing a prenuptial agreement as discussed above, you should not encounter any resistance if your fiancee truly loves you. If you encounter heavy resistance you should seriously evaluate your fiancee's motives. We all need to know that the person we are marrying, is marry us out of love. For better or worse, for richer or poorer, in sickness and in health.
As always, nothing in this article is intended to provide legal advice. We strongly advise that you seek out and retain competent legal counsel for your legal matters.
Start Today – US K1 Fiance Visa & CR1 Marriage Visa
To hire us and get started,e-mail with your Thai fiance or Thai wife's mobile phone number, one of the paralegals (Thai ladies) in our office will phone her to provide information about the visa application process, and explain to her in detail the numerous things we will be handling on her behalf.
Your fiance or wife will be invited to make an appointment with our office to begin the visa application process.
Should you have questions you can call our office toll free, you may e-mail your question or request a call. E-mails are answered promptly, never exceeding 24 hours.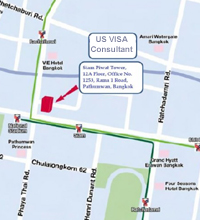 Our Office Address:
US Visa Consultants
989 Siam Piwat Tower,
12A Floor, Unit A2,
Office number 1253,
Rama 1 Road, Pathumwan,
Bangkok 10330, Thailand.

Tel: +66 (0) 2 648 5041,
Tel:+66 (0) 2 648 5042
Fax: +66 (0) 2 648 5001

Email: usvisaconsult@gmail.com