Immigration & Visas Services
LEGAL SERVICES: US Visa Consultants
Visa Processing Knowledge Center
K3 Marriage Visa Requirements
CR-1, IR-1, K-3 Marriage Visa Requirements
As the petitioner you must earn a minimum income in order to qualify to sponsor a foreigner immigrating to the USA. The minimum income required is based on family size. As an example: The minimum income required of you to support a family of two (you and your wife) living in the continental USA, not including Alaska and Hawaii based on the USCIS 2018 poverty guidelines is $20,575.00. If your wife has a child who will immigrate with her the minimum income required for a family of three is $25,975.00
Your fiancee can not have a serious criminal convictions. If she has a criminal record an attorney will assist you in determining if she qualifies or not. The general rule is that if your wife was convicted of a crime for which the maximum penalty exceeds one year imprisonment then she is ineligible to receive a visa.
You can not have a serious criminal convictions that include violent crimes, crimes against minors, and sex crimes. You can qualify with a criminal background that includes convictions for lesser crimes.
You must be legally married.
You must file a Alien Relative visa petition CR-1 or IR-1 before you can qualify to file a K-3 marriage visa petition.
Start Today – US K1 Fiance Visa & CR1 Marriage Visa
To hire us and get started,e-mail with your Thai fiance or Thai wife's mobile phone number, one of the paralegals (Thai ladies) in our office will phone her to provide information about the visa application process, and explain to her in detail the numerous things we will be handling on her behalf.
Your fiance or wife will be invited to make an appointment with our office to begin the visa application process.
Should you have questions you can call our office toll free, you may e-mail your question or request a call. E-mails are answered promptly, never exceeding 24 hours.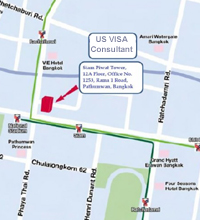 Our Office Address:
US Visa Consultants
989 Siam Piwat Tower,
12A Floor, Unit A2,
Office number 1253,
Rama 1 Road, Pathumwan,
Bangkok 10330, Thailand.

Tel: +66 (0) 2 648 5041,
Tel:+66 (0) 2 648 5042
Fax: +66 (0) 2 648 5001

Email: usvisaconsult@gmail.com