Immigration & Visas Services
LEGAL SERVICES: US Visa Consultants
Visa Processing Knowledge Center
K1 Same Sex Fiancee Visa
Same sex K-1 Fiance'e visa
After the June 26, 2013 Supreme Court decision holding that Section 3 of the Defense of Marriage Act (DOMA) is unconstitutional, President Obama directed federal departments to ensure the decision and its implication for federal benefits for same-sex legally married couples are implemented swiftly and smoothly. To that end, effective immediately, the U.S. Citizenship and Immigration Services (USCIS) will review immigration visa petitions filed on behalf of a same-sex spouse or fiancée in the same manner as those filed on behalf of an opposite-sex spouse or fiancee."
Frequently Asked Questions
Petitioning for my Spouse

Q1: I am a U.S. citizen or lawful permanent resident in a same-sex marriage to a foreign national. Can I now sponsor my spouse for a family-based immigrant visa? NEW
A1: Yes, you can file the petition. Your eligibility to petition for your spouse, and your spouse's admissibility as an immigrant at the immigration visa application or adjustment of status stage, will be determined according to applicable immigration law and will not be denied as a result of the same-sex nature of your marriage.
Q2: I am a U.S. citizen who is engaged to be married to a foreign national of the same sex. Can I file a fiancé or fiancée petition for him or her? NEW
A2: Yes. As long as all other immigration requirements are met, a same-sex engagement may allow your fiancé to enter the United States for marriage.
Q3: My spouse and I were married in a U.S. state or a foreign country that recognizes same-sex marriage, but we live in a state that does not. Can I file an immigrant visa petition for my spouse? NEW
A3: Yes. As a general matter, the law of the place where the marriage was celebrated determines whether the marriage is legally valid for immigration purposes. Just as USCIS applies all relevant laws to determine the validity of an opposite-sex marriage, we will apply all relevant laws to determine the validity of a same-sex marriage.
Start Today – US K1 Fiance Visa & CR1 Marriage Visa
To hire us and get started,e-mail with your Thai fiance or Thai wife's mobile phone number, one of the paralegals (Thai ladies) in our office will phone her to provide information about the visa application process, and explain to her in detail the numerous things we will be handling on her behalf.
Your fiance or wife will be invited to make an appointment with our office to begin the visa application process.
Should you have questions you can call our office toll free, you may e-mail your question or request a call. E-mails are answered promptly, never exceeding 24 hours.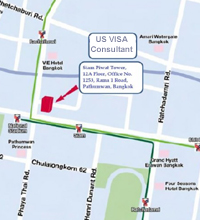 Our Office Address:
US Visa Consultants
989 Siam Piwat Tower,
12A Floor, Unit A2,
Office number 1253,
Rama 1 Road, Pathumwan,
Bangkok 10330, Thailand.

Tel: +66 (0) 2 648 5041,
Tel:+66 (0) 2 648 5042
Fax: +66 (0) 2 648 5001

Email: usvisaconsult@gmail.com