Immigration & Visas Services
LEGAL SERVICES: US Visa Consultants
Visa Processing Knowledge Center
K1 Fiancee Visa, K1 Visa or K-1 Fiance Visa
What is a US K1 Fiance Visa?
A K1 Fiancee Visa enables you to bring your Thai girlfriend / fiancee to the United States. The visa allows your fiancee to stay in the US for 90 days. If you marry in the United States she can adjust her status to a US permanent resident and obtain a green card that allows her to stay indefinitely. After living in America for 3 years she qualifies for US citizenship. Same sex couples can use a US K1 Fiancee Visa the same as heterosexual couples.
What are the Requirements of the US K1 Fiance Visa?
You must have met in person in the 2 year period immediately preceeding the filing the visa petition.
Both you and your fiancee must be single.
You must be US citizen.
You must meet a minimum income requirement. Example: 2018 family of 2 = not less than $20,575.00
You and your fiancee must state your intent to marry within 90 days of your fiancee's arrival in the US.
If your fiancee has a criminal conviction she may need a waiver. She can not have a drug conviction.
You can not have a criminal conviction for child abuse, rape, or murder. You can check with us if you are concerned about a previous criminal conviction.
What is the Cost of the US K1 Fiance Visa?
Our fee is $1,699.00 Government fees total $1,085.00
What is the Processing time for the US K1 Fiancee Visa?
Processing times vary for each application and vary year to year. Our current average processing time is 4-6 months.
How Does My Fiancee Stay in the US After Arriving on the K1 Fiancee Visa?
We will process an adjustment of status application for your fiancée after your marriage in America and obtain a green card that will allow your fiancée to remain in the United States indefinitely. After living in the USA for 3 years she qualifies to become a US citizen.
Can My Fiancee's Child[ren] Come to the US on My Fiancee's K1 Fiance Visa?
Yes. Your fiancee's child or children can go to America at the same time as your fiancée or within one year. While we don't charge fees for children's visas when they accompany a parent or follow within one year, the government fees will total $550.00.
I am 25 Years Older Then My Thai Fiancee, is This a Problem?
The typical age difference between a US citizen and a Thai fiancée is twenty to thirty years. A greater age difference will require additional evidence of the bona fides of your relationship beyond the normal level.
My Thai Fiancee has been Denied a Tourist Visa, Will This Create a Problem?
It depends on what was said during the interview and what information was entered on the application form. We will evaluate this, determine if there is a problem and if so how we will mitigate the problem.
My Thai Fiancee Doesn't Speak Much English, Will This be a Problem?
We will evaluate your fiancee's English speaking ability, and report to you. If we feel that she needs improvement we will recommend a school.
Can My Thai Fiancee Work When She Gets to America?
As part of the adjustment of status application we will submit an application for employment authorization. The application is submitted after you are married and it takes about 2 months to receive authorization to work.
Can We Marry in Thailand in a Buddhist Ceremony and Still use a US K1 Fiancee Visa?
Yes, a Buddhist ceremony in Thailand is not a legal marriage. A legal marriage in Thailand would disqualify you from being able to use a K1 fiancee visa.
Can you Give us an Assurance That Your Firm Can Obtain the Visa For us?
We believe a firm is not qualified to represent you if they can not provide you with an assurance of success. We pre-qualify our clients to guarantee the issuance of the visa. We do not process visas for people who don't qualify or who we can't qualify. Our home page provides information about our qualifications, track record, and expertise.
For more information see: K1 Fiancee Visa
Watch K-1 Fiancee Visa Video
Start Today – US K1 Fiance Visa & CR1 Marriage Visa
To hire us and get started,e-mail with your Thai fiance or Thai wife's mobile phone number, one of the paralegals (Thai ladies) in our office will phone her to provide information about the visa application process, and explain to her in detail the numerous things we will be handling on her behalf.
Your fiance or wife will be invited to make an appointment with our office to begin the visa application process.
Should you have questions you can call our office toll free, you may e-mail your question or request a call. E-mails are answered promptly, never exceeding 24 hours.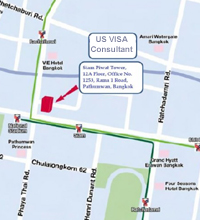 Our Office Address:
US Visa Consultants
989 Siam Piwat Tower,
12A Floor, Unit A2,
Office number 1253,
Rama 1 Road, Pathumwan,
Bangkok 10330, Thailand.

Tel: +66 (0) 2 648 5041,
Tel:+66 (0) 2 648 5042
Fax: +66 (0) 2 648 5001

Email: usvisaconsult@gmail.com