Immigration & Visas Services
LEGAL SERVICES: US Visa Consultants
Visa Processing Knowledge Center
Adjustment of Status or Green Card
After your fiancee, wife or children arrive in the United States on K-1 visa, K-2 visa, K-3 visa, or K-4 visa, they will be required to apply for and obtain permanent resident status (Green Cards) to legally remain in the USA as a Legal Permanent Resident (LPR)
Filing for your wife and children's adjustment of status once your wife and children are in the USA: Our firm prepares everything required for the submission of the adjustment of status, including affidavit of support, advance parole (travel permit), and employment authorization.
Our fees: adjustment of status application, with affidavit of support, advance parole and employment authorization is $1,695.00. As always, there is no fee for children.
When you purchase the K-1 fiancee visa and the green card together as a package the fee is $2,295.00 saving you $1,295.00.
After the adjustment of status application is received, USCIS will mail an appointment notice with a date and time for the applicant to be photographed and fingerprinted at the nearest USCIS biometrics office.
Within a month or two of the biometrics appointment USCIS will mail an interview appointment notice. The interview typically lasts 10-15 minutes and is fairly routine. The applicant will be required to provide documentation at the interview that primarily provides the immigration officer with evidence that the applicant and the American citizen spouse have a bona fide relationship.
Start Today – US K1 Fiance Visa & CR1 Marriage Visa
To hire us and get started,e-mail with your Thai fiance or Thai wife's mobile phone number, one of the paralegals (Thai ladies) in our office will phone her to provide information about the visa application process, and explain to her in detail the numerous things we will be handling on her behalf.
Your fiance or wife will be invited to make an appointment with our office to begin the visa application process.
Should you have questions you can call our office toll free, you may e-mail your question or request a call. E-mails are answered promptly, never exceeding 24 hours.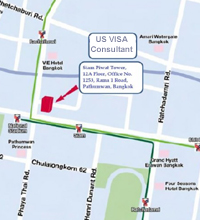 Our Office Address:
US Visa Consultants
989 Siam Piwat Tower,
12A Floor, Unit A2,
Office number 1253,
Rama 1 Road, Pathumwan,
Bangkok 10330, Thailand.

Tel: +66 (0) 2 648 5041,
Tel:+66 (0) 2 648 5042
Fax: +66 (0) 2 648 5001

Email: usvisaconsult@gmail.com