Immigration & Visas Services
LEGAL SERVICES: US Visa Consultants
Visa Processing Knowledge Center
K-1 Fiance Visa Lawyer or K-1 Visa Attorney
USA Immigration Law Thailand is the largest and oldest law firm of Thailand.
Our firm enjoys the exclusive distinction of being the only firm practicing solely in the area of k1 Fiancee Visa and k3 marriage visa from Thailand to the USA for your Thai fiance or Thai girls.
Our firm has extensive experience representing thousands of clients with visa petitions before the United States Citizenship & Immigration Services, and American Embassy in Bangkok, Thailand. Our experience with family based immigration, counselor processing, and naturalization with Thailand based petitions is unrivaled. Our firm has experienced k1 Fiancee Visa lawyer who specializes in K1 Fiancee Visa or k1 visa and k3 marriage visa or k3 visa with a 100% success rate for all our k-1 Fiancee Visa and k-3 marriage visa clients. We have successfully represented clients for removal, deportation, fraud waiver, medical waiver, three and ten year bars, criminal waiver, hardship waiver, etc. Implementation of our advance strategies, processes problematic applications as routine, avoiding incident or difficulty.
While most of the visa applications we process are without complication, and as stated above, our strategies are designed to avoid complication, clients often seek us out due to our track record of achieving positive results with difficult applications. While your application is most likely without complication you may look upon the contents of this page for informational purposes only.
Start Today – US K1 Fiance Visa & CR1 Marriage Visa
To hire us and get started,e-mail with your Thai fiance or Thai wife's mobile phone number, one of the paralegals (Thai ladies) in our office will phone her to provide information about the visa application process, and explain to her in detail the numerous things we will be handling on her behalf.
Your fiance or wife will be invited to make an appointment with our office to begin the visa application process.
Should you have questions you can call our office toll free, you may e-mail your question or request a call. E-mails are answered promptly, never exceeding 24 hours.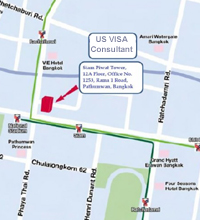 Our Office Address:
US Visa Consultants
989 Siam Piwat Tower,
12A Floor, Unit A2,
Office number 1253,
Rama 1 Road, Pathumwan,
Bangkok 10330, Thailand.

Tel: +66 (0) 2 648 5041,
Tel:+66 (0) 2 648 5042
Fax: +66 (0) 2 648 5001

Email: usvisaconsult@gmail.com