Immigration & Visas Services
LEGAL SERVICES: US Visa Consultants
Visa Processing Knowledge Center
Fiancee, Marriage Visa Interview Questions
Our firm processes 20+ visas per month though the US Embassy in Bangkok, and we have been doing so for longer than any other firm. Our closest competitor stated on their website a year ago that they processed 2 visas per month.
It is important to have up to date information with regard to questions being asked in visa interview as questions change with each applicant and each new counselor officer. Counselor officers rotate in and out on an irregular basis. Normally, a counselor officer will remain in their position for 7-12 months, but we have seen some stay for as little as 3 weeks and others as much as 1 ½ years.
We exit poll all of our clients after their interview to record the exact questions they were asked. While we have a master list it is important to know the questions being asked by the current counselor officer and also understand how this person thinks so questions can be anticipated.
It is the job of the counselor officer to ask questions to determine if the relationship between the petitioner and the beneficiary (you and your fiancee) is real. That you have what they call a "bona fide" relationship. One that has not been artificially created as a way for a foreigner to circumvent the immigration laws and use an American citizen to gain entry into the United States.
In order to determine from your fiancee that your relationship is sincere the questions the counselor officer will ask can include:
When, where and how did you meet your fiancee?
How many times has he come to Thailand to see you since your first meeting?
Where does he live, does he live in a house or apartment?
How old is your fiancee?
Has he been married before?
Does he have children?
How does he contact you when he is in the USA and you are in Thailand?
What is your fiancee's job?
Why do you love your fiancee?
Where did you learn to speak English?
This is a brief sampling of questions that could be asked. You should not assume that these will be the only questions asked of your fiancée. Your best chance of success is with a firm that has daily experience with the Embassy.
The success or failure of a visa petition is determined at the interview. The complete discretion to approve or deny the issuance of the visa rests solely with the counselor officer conducting the interview. This person does not have a boss who can overturn their decision. There is only one interview and no second chance for an interview with the counselor officer. Additional interviews are conducted by the Fraud Prevention Unit and are similar to a police interrogation.
Start Today – US K1 Fiance Visa & CR1 Marriage Visa
To hire us and get started,e-mail with your Thai fiance or Thai wife's mobile phone number, one of the paralegals (Thai ladies) in our office will phone her to provide information about the visa application process, and explain to her in detail the numerous things we will be handling on her behalf.
Your fiance or wife will be invited to make an appointment with our office to begin the visa application process.
Should you have questions you can call our office toll free, you may e-mail your question or request a call. E-mails are answered promptly, never exceeding 24 hours.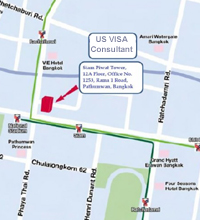 Our Office Address:
US Visa Consultants
989 Siam Piwat Tower,
12A Floor, Unit A2,
Office number 1253,
Rama 1 Road, Pathumwan,
Bangkok 10330, Thailand.

Tel: +66 (0) 2 648 5041,
Tel:+66 (0) 2 648 5042
Fax: +66 (0) 2 648 5001

Email: usvisaconsult@gmail.com