Immigration & Visas Services
LEGAL SERVICES: US Visa Consultants
Visa Processing Knowledge Center
Escorted Transport for Visa Requirements
We personally escort your fiancee or wife, and take her to the numerous places she needs to go with regard to the visa application process: US Embassy, Thai National police headquarters, Thailand passport control, medical examination, post office (for interview fee), photo studio for specific photos that are required, Thailand Amphur District office, Thailand Department of Foreign Affairs, etc. We will accompany your fiancee / wife to her interview, and stay with her until the visa is in her passport. (Unless the Embassy is in a status when access is restricted to applicants only) The interview at the US Embassy is the most critical part of the entire process; it is similar to a final exam and can count for 100% of your grade. We will ensure that your fiancee or your wife is thoroughly prepared.
We personally assist your fiancee as no one else can
Gather all information and documents from your fiancee in person
Personally meet with your fiancee and explain the entire process, in the Thai language, her native language
Meet with your fiancee and prepare all applications for her signature within hours rather than weeks or months
Translate and certify all documents and forms from Thai to English
Personally escort your fiancee to the: US Embassy, medical exam, police headquaters, district office, passport control, legalization division, post office, photo studio, etc
Personally meet with her to prepare for the interview at the US Embassy
Be available to speak to your fiancee in her native language via a local phone call in her time zone or meet in our office at any time during the application process at no charge
And much more See US Visa Process
Start Today – US K1 Fiance Visa & CR1 Marriage Visa
To hire us and get started,e-mail with your Thai fiance or Thai wife's mobile phone number, one of the paralegals (Thai ladies) in our office will phone her to provide information about the visa application process, and explain to her in detail the numerous things we will be handling on her behalf.
Your fiance or wife will be invited to make an appointment with our office to begin the visa application process.
Should you have questions you can call our office toll free, you may e-mail your question or request a call. E-mails are answered promptly, never exceeding 24 hours.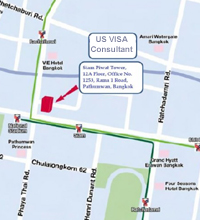 Our Office Address:
US Visa Consultants
989 Siam Piwat Tower,
12A Floor, Unit A2,
Office number 1253,
Rama 1 Road, Pathumwan,
Bangkok 10330, Thailand.

Tel: +66 (0) 2 648 5041,
Tel:+66 (0) 2 648 5042
Fax: +66 (0) 2 648 5001

Email: usvisaconsult@gmail.com