Immigration & Visas Services
LEGAL SERVICES: US Visa Consultants
Visa Processing Knowledge Center
English and Thai Speaking Personnel
It is critically important that your girlfriend, fiancee or wife can speak with, work with, and personally interact with people of her culture, and American's who can speak to her in her native language.
For example: we occasionally see people who make the mistake of hiring a US based immigration lawyer. The US based lawyer has no other option other than to ask the Thai lady to provide all of her information to him in the English language and ask her to have all of her documents translated to English. He can't talk to her in Thai, or write her an e-mail in Thai, go with her to obtain her criminal background check, medical exam, etc. He can't meet with her in person at any time and especially at the most critical time, to prepare her for her Embassy interview. We have difficulty understanding why anyone would think the services of a US based immigration lawyer would be of any benefit to their girlfriend, fiancee or wife. (Cow Jai Mai?)
Knowledge of the Thai lanuage and the ability to translate from Thai to English is crucial. All froms need to be provided in English & we translate your ladies info from Thai to English & complete the forms. In addition, all of her supporting documents need to be translated into English. These documents need a certification stamp, and we are certified.
Start Today – US K1 Fiance Visa & CR1 Marriage Visa
To hire us and get started,e-mail with your Thai fiance or Thai wife's mobile phone number, one of the paralegals (Thai ladies) in our office will phone her to provide information about the visa application process, and explain to her in detail the numerous things we will be handling on her behalf.
Your fiance or wife will be invited to make an appointment with our office to begin the visa application process.
Should you have questions you can call our office toll free, you may e-mail your question or request a call. E-mails are answered promptly, never exceeding 24 hours.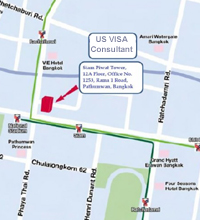 Our Office Address:
US Visa Consultants
989 Siam Piwat Tower,
12A Floor, Unit A2,
Office number 1253,
Rama 1 Road, Pathumwan,
Bangkok 10330, Thailand.

Tel: +66 (0) 2 648 5041,
Tel:+66 (0) 2 648 5042
Fax: +66 (0) 2 648 5001

Email: usvisaconsult@gmail.com