Immigration & Visas Services
LEGAL SERVICES For US Immigration
Visa Processing Knowledge Center
Testimonials
"I can say that you were truthful and delivered on all of your promises and commitments"
Dear U.S. Immigration Legal Advisors,
I want to take this opportunity to thank you for all your hard work and dedication to help my wife get her k-3 visa to come to the United States. You treated us very well and you helped us through a long and difficult process. I remember reading your website and studying all the services you provide to help customers get k 1 visa and k 3 visas. Looking back, I can say that you were truthful and delivered on all of your promises and commitments. You and your staff were very courteous and great to deal with throughout this whole process.
I now understand how difficult it can be to get a visa without having some sort of problem with paperwork or U.S. Immigration. I really believe we all need the help of a service to make sure that everything goes according to plans. Your service was hired because I feared having to unnecessarily wait in Thailand to complete my wife's paperwork. Because of your efforts, we were only in Bangkok for a couple of days and the rest of the time we were visiting my wife's family in Uttaradit. Also, my wife really enjoyed talking to your staff in both English and Thai.
Things are going great for us now. My wife and I are having a great time together and are having so much fun in America. I remember wishing that she would be here and now it has come true.
I thank you so much. You really helped me through this difficult process and for that I am truly grateful.
I wish you the best.
Sincerely,
P.Lucarz
Illinois, USA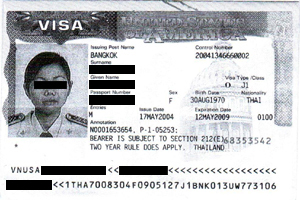 Read
All 100+ Testimonials
Start Today – US K1 Fiance Visa & CR1 Marriage Visa
To hire us and get started, send us an e-mail
with your Thai fiance or Thai wife's mobile phone number, one of the paralegals (Thai ladies) in our office will phone her to provide information about the visa application process, and explain to her in detail the numerous things we will be handling on her behalf.
Your fiance or wife will be invited to make an appointment with our office to begin the visa application process.
Should you have questions you can call our office toll free, you may e-mail
your question or request a call.
E-mails
are answered promptly, never exceeding 24 hours.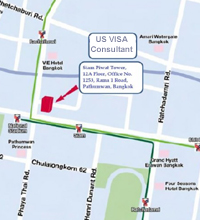 Our Office Address:
U.S. Immigration Legal Advisors
85 Nonsi Road – Soi 8,
Yannawa, Bangkok 10120,
Thailand.
Tel: (662) 681-0015
Toll Free No: 888-235-8856
Email: usvisabkk@gmail.com
US Office:
45 Rockefeller Plaza, Rockefeller Center, Suite 2000
International Building, 630 Fifth Avenue
West 50th Street & West 51st Street
Midtown Manhattan, New York, NY 10111
800-857-1729
Email: usvlaw@gmail.com