Immigration & Visas Services
LEGAL SERVICES For US Immigration
Visa Processing Knowledge Center
Testimonials
"You may want to email or call U.S. Immigration Legal Advisors and setup an appointment, they don't charge you until you hire them"
Dear Jorge:
Below is the information on the Thai attorney I told you about. I think he charged me $1000 to handle everything in Bangkok (since I handled the U.S. paperwork he discounted down his regular fee). I feel it was money well spent, speeding up the process and avoiding errors.
I met with him at his office before the initial approval and decided to use him. You may want to email or call him and setup an appointment, they don't charge you until you hire them.
I was going to Bangkok frequently and went through much of the process with my wife. He has a nice large air conditioned van. He has two people accompany your wife, one person who walks with her and the driver. Where there is a long wait, the driver comes inside so there are two people helping out your wife. Also, you have to go to places scattered all around Bangkok and do paperwork for different agencies, they drive right to them and know the paperwork. They also have another person back at the office for the embassy paperwork.
From the website: he and his Staff do the following:
Gather all information and documents from your fiancee in person.
Personally meet with your fiancee and explain the entire process, in the Thai language, her native language.
Meet with your fiancee and prepare all applications for her signature within hours rather than weeks or months.
Translate and certify all documents and forms from Thai to English.
Personally escort your fiancee to the: US Embassy, medical exam, police headquaters, district office, passport control, legalization division, post office, photo studio, etc.
Personally meet with her to prepare for the interview at the US Embassy.
Be available to speak to your fiancee in her native language via a local phone call in her time zone or meet in our office at any time during the application process at no charge.
This is not a complete list, they do more.
At the embassy there were huge lines, since he had all the paperwork ready you just walk with him straight past all the lines to the interview window. Other people were in lines at reception, to get paperwork in another area, etc. It seemed I saved hours in lines and moved straight to the front.
I went with Lek to the interview, the plan was that when she got the VISA a few days later, I could take her home with me. At the interview the Embassy lost or never got the medical exam (hospital or embassy's fault, not His). They partially approved her but put the VISA on hold. I felt if I didn't get the situation resolved right away, between the huge embassy and the huge hospital, the VISA might stay on hold for months or forever. He counseled me on what to do. He had his people take me to the hospital and they literally stood behind me and supported me while I insisted that the hospital either give me a duplicate set of records or have a courier take it to the embassy right away. Without his counseling me and his people supporting me, I wouldn't have known what to do and the huge hospital was trying to brush me off, but it is harder to brush off 4 people. After arguing with me and first refusing to do it, the hospital had a courier deliver the records and we got the VISA two days later at the same time as everyone who interviewed at the same time as us.
It is priceless in a way that you have a team of people knowing what they are doing and taking you around Bangkok (can be very hot) in an air conditioned van.
If you have any questions, please let me know. Have a great trip!!!!!!!!
Jeff D.
Beverly Hill, CA
Read
All 100+ Testimonials
Start Today – US K1 Fiance Visa & CR1 Marriage Visa
To hire us and get started, send us an e-mail
with your Thai fiance or Thai wife's mobile phone number, one of the paralegals (Thai ladies) in our office will phone her to provide information about the visa application process, and explain to her in detail the numerous things we will be handling on her behalf.
Your fiance or wife will be invited to make an appointment with our office to begin the visa application process.
Should you have questions you can call our office toll free, you may e-mail
your question or request a call.
E-mails
are answered promptly, never exceeding 24 hours.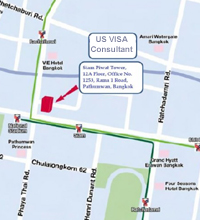 Our Office Address:
U.S. Immigration Legal Advisors
85 Nonsi Road – Soi 8,
Yannawa, Bangkok 10120,
Thailand.
Tel: (662) 681-0015
Toll Free No: 888-235-8856
Email: usvisabkk@gmail.com
US Office:
45 Rockefeller Plaza, Rockefeller Center, Suite 2000
International Building, 630 Fifth Avenue
West 50th Street & West 51st Street
Midtown Manhattan, New York, NY 10111
800-857-1729
Email: usvlaw@gmail.com