Immigration & Visas Services
LEGAL SERVICES For US Immigration
Visa Processing Knowledge Center
U.S. Immigration Legal Advisors Thailand FAQs
"My Thai fiancee was married to a Thai police officer for 10 years so I am sure she has never been arrested for anything"
To: The attention of U.S. Immigration Legal Avisors,
I am an American man, U.S. citizen who came to Thailand to look for a nice lady after suffering years of abuse from my American wife. I am not the typical American man who comes to Thailand to satisfy his sexual urges. I am not even close to being a sexual person, but what I do see as common in Thai women is congeniality, a pleasant, humble, non-confrontational personality type that will allow me to have a kindly reciprocating relationship where two people take care of each other and treat each other with kindness. It is with this type of person who I want to spend the rest of my life with. There were many things that attracted me to your firm, one primary reason was the possible opportunity to save money. You see my Thai fiancee has 3 children. Each child will need a U.S. immigration visa. I have one child myself in the U.S. who is the same age as one of my Thai fiancee's children, her oldest child. Your website states that you do not charge a fee for children when accompanying a parent to the U.S. I don't want to abuse your kindness and I realize that processing U.S. visas for three children is a lot of work, but I thought I would check with you about this. I also want to ask if my previous arrest for DUI will have any effect on the visa applications. The arrest took place more than 20 years ago. My Thai fiancee was married to a Thai police officer for 10 years so I am sure she has never been arrested for anything. Thank you in advance for your answers to my questions.
George
Dear George,
First, we never charge a fee for a child visa. I don't think we have ever exceeded 3 child visas for one family, but we have certainly seen a 3 quite often. We do not charge a fee for a child visa because we never want to see a family separated because they can't afford our fee. If we were to impose any type of limit this would defeat the entire purpose. Therefore, your requirement of 3 child visas is not an abuse of our policy. The fact that you have only been arrested once for DUI has no effect on the visa application. Ninety percent of our clients meet ladies on the Internet through the use of a few different dating websites that feature ladies living in Thailand. The majority of our clients are like you, they have no sexual intent for seeking a Thai lady, they have just reached their limit for the verbal abuse they suffered in their previous relationships. Not too say that all American women are verbally abusive, some of our best friends are American women. We look forward to representing your family in obtaining their U.S. visas.
U.S. Immigration Legal Advisors
Read
All 100+ Testimonials
Start Today – US K1 Fiance Visa & CR1 Marriage Visa
To hire us and get started, send us an e-mail
with your Thai fiance or Thai wife's mobile phone number, one of the paralegals (Thai ladies) in our office will phone her to provide information about the visa application process, and explain to her in detail the numerous things we will be handling on her behalf.
Your fiance or wife will be invited to make an appointment with our office to begin the visa application process.
Should you have questions you can call our office toll free, you may e-mail
your question or request a call.
E-mails
are answered promptly, never exceeding 24 hours.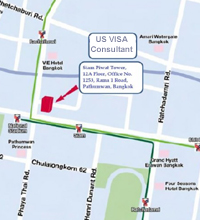 Our Office Address:
U.S. Immigration Legal Advisors
85 Nonsi Road – Soi 8,
Yannawa, Bangkok 10120,
Thailand.
Tel: (662) 681-0015
Toll Free No: 888-235-8856
Email: usvisabkk@gmail.com
US Office:
45 Rockefeller Plaza, Rockefeller Center, Suite 2000
International Building, 630 Fifth Avenue
West 50th Street & West 51st Street
Midtown Manhattan, New York, NY 10111
800-857-1729
Email: usvlaw@gmail.com