Immigration & Visas Services
LEGAL SERVICES For US Immigration
Visa Processing Knowledge Center
U.S. Immigration Legal Advisors Thailand FAQs
"My Thai Fiancee has been previously arrested by the Thai police for prostitution"
To: The attention of U.S. Immigration Legal Advisors,
I am writing to ask you a personal question about a U.S. visa. The personal aspect of the question is due to it's sexual nature. I have been told that you are the man to talk to and it is certainly much easier to talk about a situation of this type with another man, especially one who lives in Thailand. My Thai fiancee has been previously arrested by the Thai police for prostitution. The arrest took place in Pattaya Thailand over 3 years ago. Is there any hope of getting my Thai fiance and her child a visa to the U.S.
Bobby
Dear Bobby,
Any Thai lady who has previously provided sexual services in exchange for money, even if she has never been arrested and no abuse has been involved, is ineligible for U.S. immigration. The fact that your fiancée has been arrested and that this arrest will show up in a Thailand criminal background check ads another dimension to her in ineligibility, that of being convicted of a crime. The American Embassy will find her ineligible but we can then file a petition to receive a waiver from the 2 ineligibilities: the act of providing sexual services and the criminal conviction. The fact that your fiancée has a child has no bearing on the ineligibility and her child will be able to receive an American visa if the waiver is approved. No waiver petition is required for the child. Waiver petitions are very complex. USCIS provides no guidance for waiver applications in fear of abuse of the system and the tailoring of arguments based on their guidance. Our firm can obtain a waiver for your fiancée but the entire visa and waiver process will take 14-18 months to complete.
U.S. Immigration Legal Advisors
Read
All 100+ Testimonials
Start Today – US K1 Fiance Visa & CR1 Marriage Visa
To hire us and get started, send us an e-mail
with your Thai fiance or Thai wife's mobile phone number, one of the paralegals (Thai ladies) in our office will phone her to provide information about the visa application process, and explain to her in detail the numerous things we will be handling on her behalf.
Your fiance or wife will be invited to make an appointment with our office to begin the visa application process.
Should you have questions you can call our office toll free, you may e-mail
your question or request a call.
E-mails
are answered promptly, never exceeding 24 hours.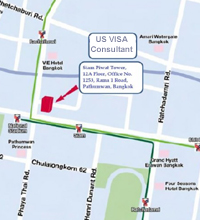 Our Office Address:
U.S. Immigration Legal Advisors
85 Nonsi Road – Soi 8,
Yannawa, Bangkok 10120,
Thailand.
Tel: (662) 681-0015
Toll Free No: 888-235-8856
Email: usvisabkk@gmail.com
US Office:
45 Rockefeller Plaza, Rockefeller Center, Suite 2000
International Building, 630 Fifth Avenue
West 50th Street & West 51st Street
Midtown Manhattan, New York, NY 10111
800-857-1729
Email: usvlaw@gmail.com