Immigration & Visas Services
LEGAL SERVICES For US Immigration
Visa Processing Knowledge Center
Testimonials
"I want to thank you for all your help in getting Dang her fiancee visa"
Dear U.S. Immigration Legal Advisors,
I want to thank you for all your help in getting Dang her fiancee visa.
When I learned that Thai girls must complete over a half dozen forms which need to be translated from Thai to English, I knew I couldn't do it myself and I couldn't imagine who was going to do this for us.
I also did not believe that the visa service companies based outside Thailand had Thai people in their offices to translate. Some told me that they could get a translator but I didn't have very much confidence in that. I thought it would take extra time and there may be inaccuracies that would cause the application to be rejected. When I found your Thailand based company I knew you could do the job more efficiently and effectively and provide greater assistance to Dang.
I also learned that Thai girls must also go to the embassy in Bangkok 3 times, get police records, birth records, passport, family ID, physical examination, etc. there is a lot of running around. I was so happy when you were with Dang thru every step. There is no way she could have understood and done this all by herself. The visa service company's I called, which were based outside Thailand , could not have helped her to do the many things she needed to do in Thailand.
Finally, I want to thank you for making Dang more comfortable with her interview at the embassy. She was very nervous about this because she knew how crucial it would be. Your coaching, reassurance, and your own confidence gave her the confidence she needed.
Thanks again and please feel free to share this letter with others who are intimidated and confused by the fiancee Visa process.
D. Francis
Lincoln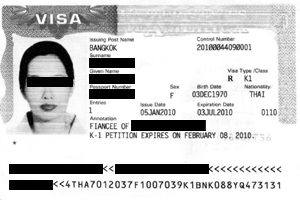 Read
All 100+ Testimonials
Start Today – US K1 Fiance Visa & CR1 Marriage Visa
To hire us and get started, send us an e-mail
with your Thai fiance or Thai wife's mobile phone number, one of the paralegals (Thai ladies) in our office will phone her to provide information about the visa application process, and explain to her in detail the numerous things we will be handling on her behalf.
Your fiance or wife will be invited to make an appointment with our office to begin the visa application process.
Should you have questions you can call our office toll free, you may e-mail
your question or request a call.
E-mails
are answered promptly, never exceeding 24 hours.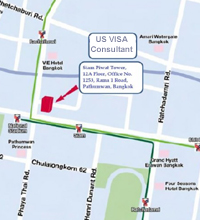 Our Office Address:
U.S. Immigration Legal Advisors
85 Nonsi Road – Soi 8,
Yannawa, Bangkok 10120,
Thailand.
Tel: (662) 681-0015
Toll Free No: 888-235-8856
Email: usvisabkk@gmail.com
US Office:
45 Rockefeller Plaza, Rockefeller Center, Suite 2000
International Building, 630 Fifth Avenue
West 50th Street & West 51st Street
Midtown Manhattan, New York, NY 10111
800-857-1729
Email: usvlaw@gmail.com